Jerry Johnston, the longtime president of the King's River Bluegrass Association and the organizer of the King's River Bluegrass Festival during its prime, died on January 8, 2019 in Fresno, following complications from surgery. He was 83 years old.
Jerry and his companion Rose Marie Dick were volunteers at the NCBS Good Old Fashioned Bluegrass Festival and helped run the NCBS Information Booth at various Central Valley festivals.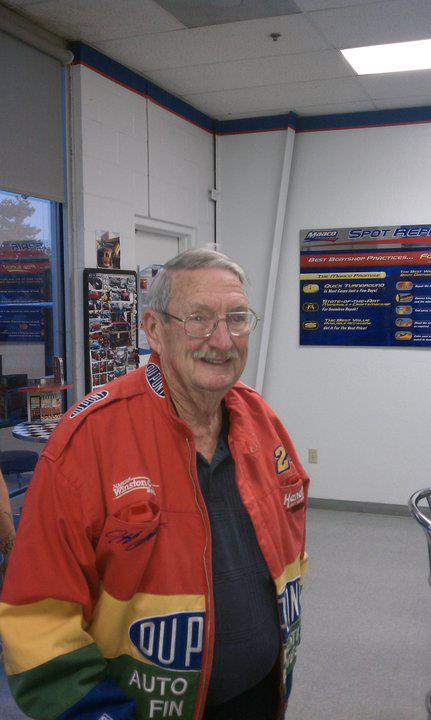 Johnston was born in East Liverpool, Ohio, and served as an aerial photographer in the US Air Force. He came to California when he was stationed at Castle Air Force Base in the Central Valley area. After he left military service, he studied business and accounting at Arizona State University. After practicing as an accountant, he enjoyed a long career on the accounting faculty at Fresno State University.
As a young man, he loved classic fast cars, competitive roller skating, and photography. In later life he added a big love for bluegrass music and Fresno State football.
Johnston took over a small street-based bluegrass festival in downtown Sanger, southeast of Fresno, and moved it to nearby Hobb's Grove on the banks of the King's River. There, the King's River Bluegrass Association event grew to a full 3-day festival held each September. It was an important driver of bluegrass music in the southern Central Valley and strongly backed area bluegrass groups and musicians. This festival later became the California Bluegrass Association Hobb's Grove Bluegrass Festival.
Jerry also took great, public pride as a leader of the Friends of Bill W. in the Fresno area and in organizing area meetings over the years.
One of the joys during the last 5 years of his life was reconnecting with Rose Marie, who grew up near Jerry's boyhood home, and later met him for the first time at a roller skate rink near Castle Air Force Base. After 55 years, the couple remet on Facebook.
Gerald Johnston is survived by two sons and a daughter. His ashes will be scattered in a beautiful area of West Virginia across the river from his Ohio hometown.
Memorial Service Information (1/19/19)